Esco Aster Launches Phase 1 COVID-19 Swab Booths of Trace, Test, and Treat Platform
---
Esco Aster launches phase 1 of its end to end Trace, Test, and Treat Platform starting with COVID-19 swab booths.
Within less than a month, Esco Aster launched its COVID-19 swab booths, first to be developed globally, to provide diagnostic testing of asymptomatic carriers, person under investigation (PUI), and COVID-19 positive (+ve) patients, as well as environmental protection for full end to end biosafety and biocontainment solution with recommended protocols.
The mass screening swab booth MSSB™ comes with an inbuilt air ventilation containment unit running in positive (+ve) pressure for healthcare worker protection and negative (-ve) pressure for the PUI. They are equipped with closed passing of swabs, onboard hand and personnel disinfection systems. Additional space with the Healthcare Worker booth allows for optional integration of units such as cooler for cold chain to store swabs before they are sent to a nearby mobile or central diagnostic laboratory. It comes as well with additional sockets to add heaters or coolers depending on the climate where they are deployed.
For enhanced swab booth, our infectious disease diagnostic booth IDDSB™ can be placed into a 20ft container with integrated biodecontamination systems utilizing hydrogen peroxide (H2O2) and are pressure decay tested following Biosafety Level 3 (BSL-3) test criteria. The IDDSB™ being in a 20ft container, can then be easily deployed in Severe Acute Respiratory Infection (SARI) Satellite Screening facility alongside a Mobile Dx lab for end to end workflow.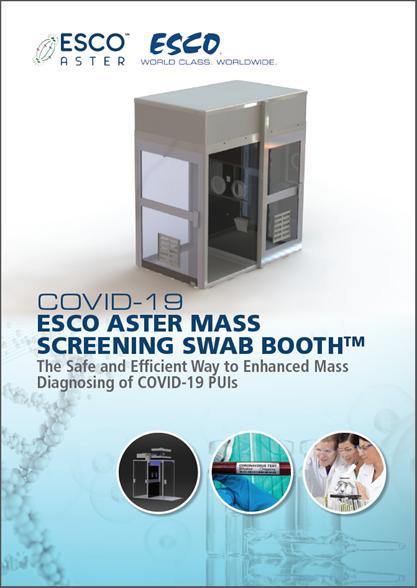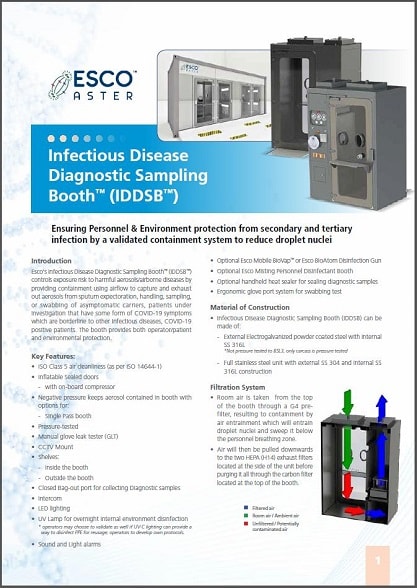 Amidst the first used COVID-19 phone booths developed by South Korea, Co-Director of Global Health Program at NUS Saw Swee Hock School of Public Health Dr. Jeremy Lim asked Esco last Mar. 19 if Esco could build something similar.
From paper sketches to conceptualization with his team, Esco Aster Founder, President, & CEO, Xiangliang Lin, rose to the challenge and presented the plan to various stakeholders within the following week of Mar. 23.
This was then mentioned by Esco Life Sciences Group CEO Xiangqian (XQ) Lin on CNBC, which was broadcasted worldwide last Apr. 1.
Esco Aster COVID-19 booths were featured again in Singapore Business Times yesterday, Apr. 14.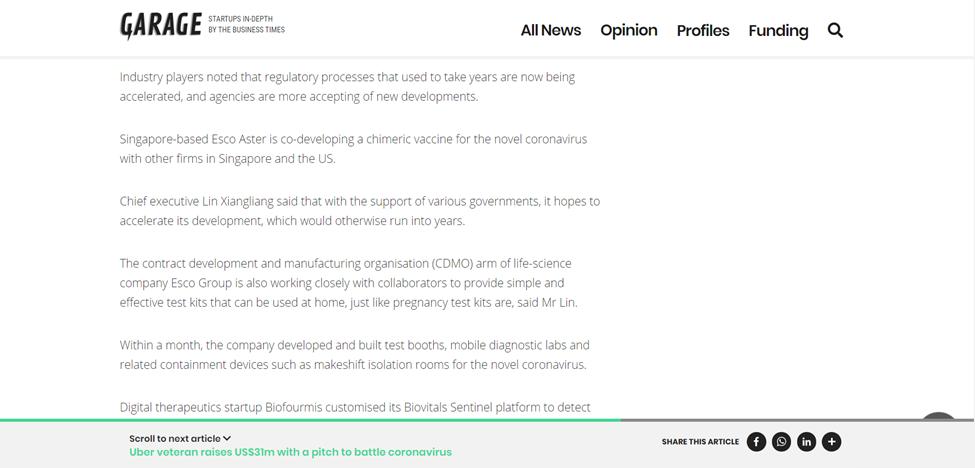 The accelerated pathway to development and deployment took into consideration various inputs from end user groups and other countries around the world including a cost benefit analysis.
"Whilst it is debatable on the extent of droplet nuclei and airborne transmission of SARS-CoV-2 virus, in biosafety, we take an approach of providing containment as low as reasonably possible and assuming 'not if' but 'when it' does happen. An adverse event in such a swab taking as per risk analysis would be someone coughing or sneezing inside the swab booth, in such an event a containment solution is needed to prevent secondary infection" Esco Aster CEO Xiangliang Lin said.
"We took into consideration various international biosafety guidelines including WHO COVID-19 guidelines for diagnostic collection and biosafety during the conceptualization phase," he added.
Esco, along with its vertically integrated factories and global supply chain, are in processing of scaling its production output from 10 to 50 per week and ongoing tech transfer to other 2 factories in Europe and 1 in China for global manufacturing for further mass production.
Esco Aster will continue to work simultaneously to deploy their COVID-19 swab booths and move on to their next phase of launching their mobile diagnostic labs with the first 10' currently made in Changi, Singapore and deploying into the region in the next phase of Trace, Test, and Treat.
Simultaneously, Esco Aster is continuing to work with their collaborators on monoclonal antibody (mAb) antigen-based diagnostics, and therapeutics and a COVID-19 chimeric vaccine platform with international collaborators.
Esco Aster looks forward to continuing to support the ecosystem within Singapore, ASEAN and globally to flatten the curve.

About Esco Aster
Esco Aster is a contract development and manufacturing organisation (CDMO) spun out as an independent subsidiary in 2017 from the Esco Group of companies founded in 1978. Process Development for clients was previously provided within the group with our partners as early as 2002.
Esco Aster is focused on offering vaccine-, bio- cell- and gene-therapy development manufacturing services using primarily its proprietary Adherent Tide Motion Platform supplemented by single-use suspension and fermentation, downstream bioprocessing, and custom bioengineering equipment for client-specific therapeutics. Within the chem- biopolymer- cosmetic, personal care, cosmeceutical- segments, we excel in converting batch processes into continuous flow chemistry, closed aseptic processing within isolators, along with a variety of skin safety/efficacy testing services.