This type of freezer is widely used in scientific research for prolonged storage of temperature-sensitive biological samples. It can hold anything from years of research to important and often costly reagents.
Esco Lexicon® II Ultra-low Temperature Freezers are built to last. It is geared with well-designed refrigeration sytem and high-quality materials suited for long-term storage of DNA, RNA, vaccines, reagents, proteins, viruses, bacteria, cell preparations, enzymes, and tissue samples.
Must-have features to consider:
Temperature range of -50°C to -86°C
Intuitive and easy-to-use microprocessor controller.
Superior insulation system that protects against thermal leaks and prevents excessive frost build-up.
Easy to service bottom-mounted compressors, filter driers located at the deck for easy replacement, and condenser filter conveniently located on the front that allows easy access for inspection, cleaning, and/or changing.
Low noise operation to ensure a quiet and pleasant working environment for lab users.
Effective cooling technology that allows efficient recycling of the heat generated by the system. This reduces power consumption and prolongs the life of the freezer.
Ergonomically designed door handle that allows one-handed door opening.
Insulated and adjustable inner doors to secure all products stored even when other inner doors are opened.
Wide variety of sizes to choose from for storage of biological samples.
Environment-friendly CFC- and HCFC-free refrigerants.
High-quality Polyurethane foam insulation that provides better temperature uniformity and reduces power consumption.
Multiple access ports that allow insertion of probes, LCO2 back-up injectors, or other instrumentations.
---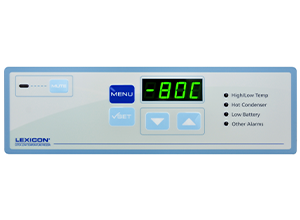 Silver Controller is a simple and intuitive microprocessor controller designed with a 7-segments LED display and user-friendly controls to record and monitor temperature data and events of the freezer. Digital display defaults to actual chamber temperature and changes when set point, alarm parameters, and other functions are performed.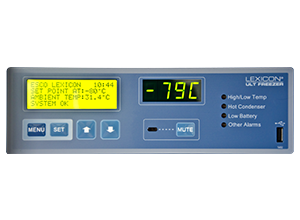 Gold Controller uses an integrated, microprocessor-based control system that includes an LED display for the actual chamber temperature and a 4x20 LCD screen which displays the set and ambient temperature. It has clear indication of audible and visual alarms to ensure protection throughout entire cabinet. A built-in USB port for exporting data and the last 20 system events is included.
| | Silver Controller | Gold Controller |
| --- | --- | --- |
| LED, 7-segments display, Keypad buttons | ✓ | ✓ |
| LCD Screen | | ✓ |
| Microprocessor | ✓ | ✓ |
| Visual and audible alarms | ✓ | ✓ |
| Remote alarm output | ✓ | ✓ |
| Digital temperature display | ✓ | ✓ |
| USB slot for data download | | ✓ |
| Key lock | ✓ | ✓ |
Frequently Asked Questions