A Ducted Fume Hood is a type of ventilation system that primarily functions to provide personnel protection against toxic fumes, vapors, and dust. This containment device is connected to a ducting where contaminants pass before being exhausted into the environment. Its secondary function includes protection against chemical spills, runaway reactions, and fires by acting as a physical barrier.
Esco Frontier® Ducted Fume hoods superior containment and performance comply with ASHRAE 110 and EN 14175 standards. These fume hoods are designed to have precisely tuned aerodynamics, total systems and design flexibility, aesthetics and ergonomics to provide outstanding user safety and convenience.
Must-have features to consider:
Compliance to ASHRAE 110 and EN 14175 for superior fume containment
Robust construction for withstanding chemicals even at high temperatures
Basic rocker switches for hassle-free operation
Variety of worktop configurations to accommodate different applications
Offers a broad range of accessories and options
Unique baffle design to prevent fume accumulation in workzone
Equipped with safety features such as: sash stop limit and airflow monitoring system
Ergonomic features such as sash sloping, internal lighting
FiltraCheck™ free service to evaluate application and recommend the suitable ducted fume hood model
---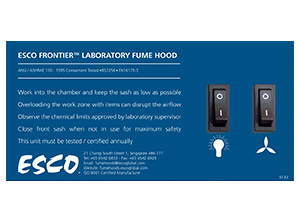 Rocker Switch has basic buttons for light and blower operation.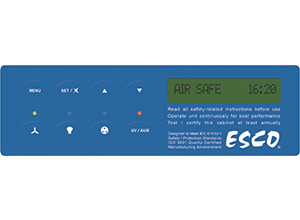 Sentinel™ Silver Microprocessor Controller has one-line LCD screen for display of airflow status and time. There are soft touch keys for fan, lamp, socket, and AUX. The cabinet will signal audible and visual alarms during unwanted events.
Frequently Asked Questions