Esco certified by NEBB for Cleanroom Performance Testing
---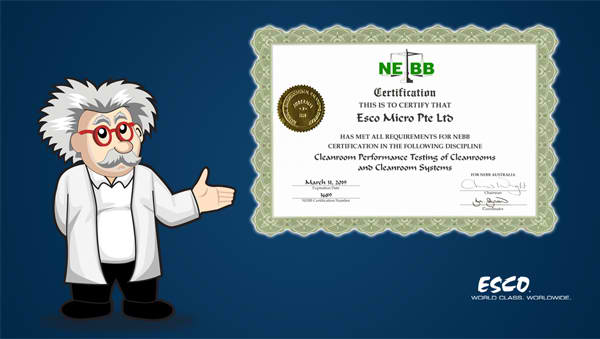 Esco recently acquired a National Environmental Balancing Bureau (NEBB) Australia Certification on Cleanroom Performance Testing of Cleanrooms and Cleanroom Systems. Likewise, Poh Seah Seow, Esco Service Manager, is named as NEBB Certified Professional.
Esco and Mr. Seow are recognized as highly skilled specialists who are able to measure the efficiency of building systems and provide customized solutions for business owners. NEBB certification is a tangible proof of qualification to perform our work in accordance to NEBB Procedural Standards.
This is another proof that Esco maintains high standards and upholds our promise of being an Excellent Service COmpany.
NEBB Australia, working under licence from NEBB USA, and is an organisation dedicated to the implementation and promotion of established industry standards, procedures and specifications for work in the various disciplines related to environmental systems which include: Testing, adjusting and balancing of air and hydronic systems – TAB, Cleanroom performance testing – CPT, Building systems commissioning – BSC, Retro Commissioning of Existing Buildings – RCx, Fume Hood Testing – FHT, Sound and vibration measurement - S&V, Building Enclosure Testing – BET. 1
Reference:
1NEBB Australia, About us, Retrieved on April 19, 2017 from http://www.nebbaustralia.org.au/about-us.aspx