Esco Healthcare showcases at the Singapore Pharmacy Congress
---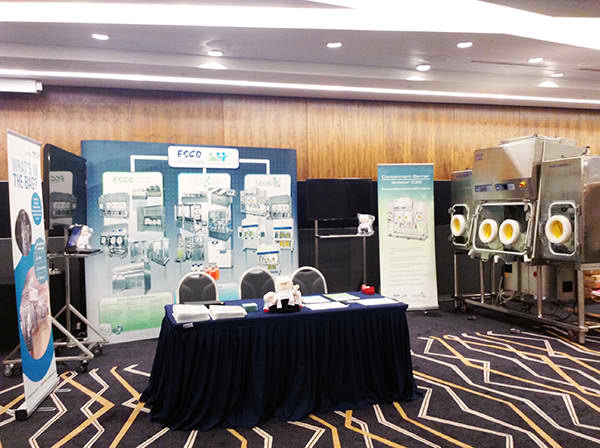 The Pharmaceutical Society of Singapore organized its 26th Singapore Pharmacy Congress last October 8-9, 2016 at the Suntec Singapore Convention & Exhibition Centre with the theme "Patients – Our Partner in Care". The theme manifests the need to proactively engage patients and caregivers to understand about their needs and expectations, and for new models of care to meet the rising and evolving healthcare demands.
The event opened to much fanfare, with Mr Chan Heng Kee, Permanent Secretary, Ministry of Health, gracing the ceremony as the Guest of Honor. In his speech, he emphasized that, "Patients don't care how much you know, but on how much you care," encouraging pharmacists to provide accessible, affordable and quality healthcare. He also said that as partners of the community, pharmacists should choose the appropriate care to their needs and adopt to efficient and cost-effective technologies.
Mr. Lin XiangLiang, Global President, Esco Healthcare gave a talk on "Future Ready: Manual to Automated Pharmacy Compounding" during the October 8 lunch symposium. He briefly discussed on the history of regulatory changes and current trends in pharmacy compounding practices globally as well as how it relates to the present practices within Asia. The lecture also explained that the trend in manual compounding is similarly moving towards closed systems, within isolators with lower background cleanrooms which has a dual effect of higher safety for the compounding technicians and lower utility costs as well as running environmental monitoring. He as well introduced on how automation can be potentially applied into pharmacy compounding.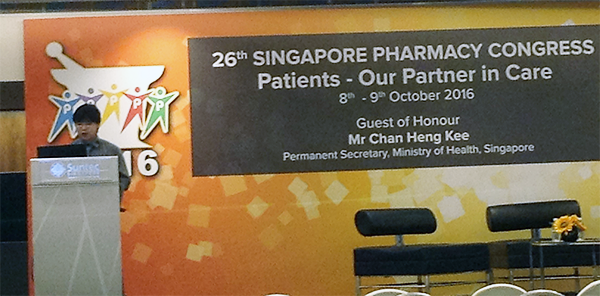 Mr Lin XiangLiang, Global President, Esco Healthcare on his lecture about "Future Ready: Manual to Automated Pharmacy Compounding."
During the congress, Esco exhibited the Containment Barrier Isolator (CBI) which facilitates the isolation of a product or process while providing the required conditions for a sterile/aseptic environment. It is configured to operate at positive or negative pressure. This equipment provides a comprehensive range of personnel and product protection in addition to protection for the surrounding work areas and the environment. CBI's design has complete compliance to PIC/S and EU cGMP standards with its 19 mm radius coved internal corners in a single piece chamber (no perforations or grilles for contaminants to be trapped on all 4 corners). Its Rear Return Filter ensures that ducts are not contaminated. The system comes in either recirculatory or single pass airflow.
Also, RIVA™ - The Most Comprehensive Pharmacy Automation Solution – was introduced in the exhibit. It is a fully automated IV compounding system developed by ARxIUM used by hospital pharmacies to automatically and accurately prepare IV syringes and bags. RIVA addresses the issues of safety for the patient and the pharmacy staff, efficiency and effectiveness in the pharmacy and the challenges of a changing regulatory environment.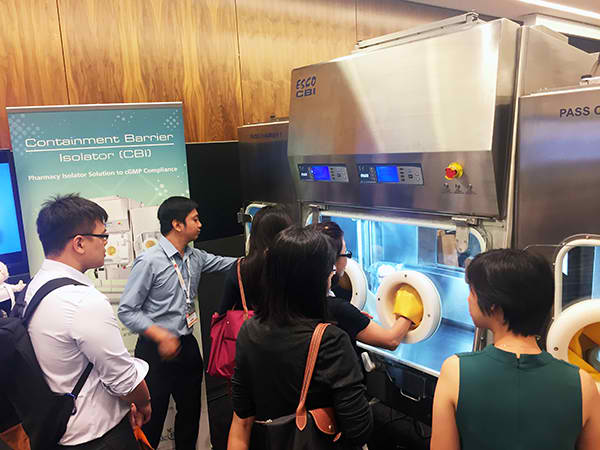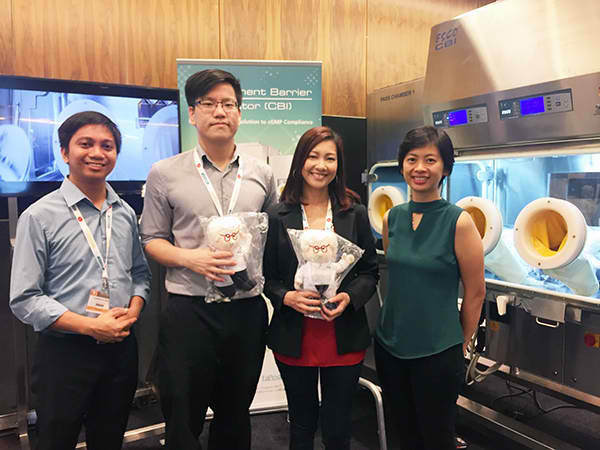 In this year's congress, over 800 key partners in healthcare – pharmacists, physicians, patients, caregivers and industry players - joined through a dialogue session and have shared their insights and experiences. From Esco, we want to thank all those who visited the booth and listened to the talk. Congratulations to the organizers and participants for yet another successful event.