Esco Pharma Rolled the Tide to the Windy City
---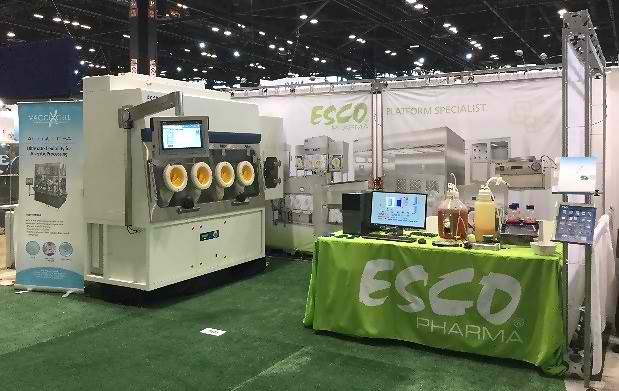 Esco Pharma introduced its solutions to optimize biomanufacturing process, the tide motion bioreactor system, for the first time in Chicago.
The Pharma EXPO ran from November 6 to 9, 2016 at the McCormick Place in Chicago, IL.
PharmaEXPO attendees got the chance to see both the CelCradle™ system and the TideCell® system. The laboratory scale, CelCradle™ system, is an ideal system for autologous cell therapy, as a single bottle can produce from 500M (5E8) to 1B (1E9) adipose-derived or bone marrow-derived mesenchymal stem cells; a cell density that is required for a single patient. The CelCradle™ system can also be integrated into the cell processing isolator, CradlePro-Iso. The system features all the necessary equipment used in cell therapy including a bioreactor for cultivation and centrifuge for cell harvesting in an aseptic environment. It is also easily customizable, depending on the client's requirements and process.
| | | |
| --- | --- | --- |
| | | |
| Mr. Ryan Clayton introducing the Esco Pharma technology | TideCell Game | Esco Pharma Team with the winner |
And to make it more exciting, Esco Pharma prepared a game to test estimation skills. The person who guessed the closest or exact number won an exciting prize from Esco.