Let's Talk Science: Join Esco at the Analytica 2020!
---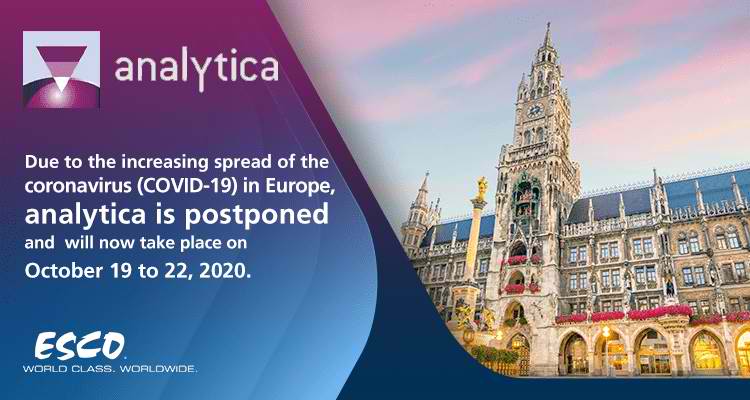 ANNOUNCEMENT: "Due to the increasing spread of the coronavirus (COVID-19) in Europe and on the basis of the recommendations of the Bavarian State Government as well as of the responsible health authorities, Messe München feels compelled to postpone analytica 2020. This measure is taken in consultation with the Exhibitors' Advisory Board and in responsibility for the health of exhibitors and visitors. analytica will now take place from October 19 to 22, 2020."
For more information, please refer to: https://www.analytica.de/en/press/newsroom/press-releases/detail/analytica-is-postponed-new-date-in-the-fall-of-2020.php
Analytica 2020 grants you access to a chain of modern laboratory processes from laboratory techniques on analysis and quality control to biotechnology, life sciences and diagnostics. It offers opportunities that are sure to broaden your mind and expertise in specific scientific technology disciplines. It's a great way to discuss leading-edge trends, meet recognized experts, and collaborate with others.
Esco will once again join Analytica - the leading international event in the laboratory technology and biotechnology industries. The upcoming edition of the trade fair will take place from 19th to 22nd of October at the Exhibition Grounds in Munich, Germany..
Visit our booth as we showcase our latest innovations designed to enhance your productivity in research and take the journey to an in-depth application-based knowledge of the technologies tailored to suit your needs.
Esco's commitment to creating enabling technologies aims to make human lives healthier and safer on a global scale.
Let's meet at Analytica to connect, to discuss, to innovate, and to drive future progress.
Visit us and check out these products on display: