Product Spotlight: Fertilisafe™ Workstation with Miri Chambers
---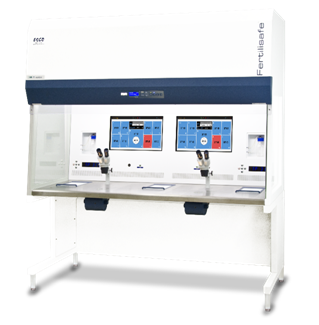 Fertilisafe Workstation, Model: MAW-
Esco Medical understands the importance of keeping your samples safe at all times. To maximize every step in your IVF routine, we have integrated the Miri Chambers into the workstation to provide a safe and stable temporary shelter for your precious samples while you do your observation and manipulations. The Miri incubator is popular for its top-notch features such as stable culture environment and faster parameter recovery.
It is even better with the option to choose which zones to turn and turn off depending on your situation.

Temperature Modes

•Mode 1: All Zones are heated

•Mode 2: Right Zones turned off

•Mode 3: Right and middle zones turned off

•Mode 4: All zones turned off

The Fertilisafe Workstation has top-notch features that surely makes it at the top of its class:

Multi-zone heated table plate is the most advanced system available anywhere.
Smart power injection of heating zones ensure effective temperature control
Heated glass stage keeps samples warm during microscopy and is integrated as a smart-controlled heating zone
Anti-vibration mounting dampens vibrations from the cabinet to the work area.

Real-time surveillance system provides information of zone performance and other work area parameters such as gas pressure and flow rate.
You'll surely want this new Fertilisafe workstation in your lab. Watch the video to know more!