TaPestle Rx organizes the 4th Leg of Innovative Technology on Pharmacy Compounding Seminar
---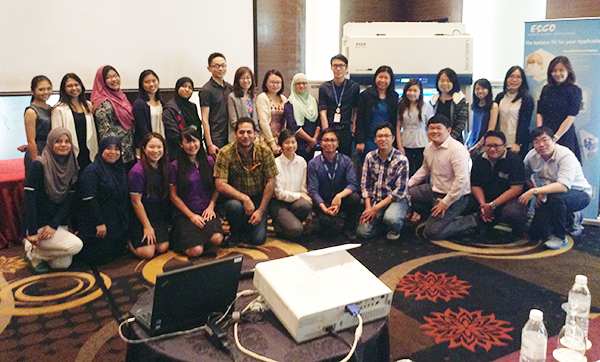 As part of its commitment to provide quality products and services, and to educate pharmacists around the globe, TaPestle Rx, together with Esco Micro (M) Sdn. Bhd. Kuala Lumpur successfully conducted a whole day end-user seminar last September 21 at Holiday Inn Kuala Lumpur Glenmarie with Mr. Vladimir Guillermo, RPh, PharmD, and Ms. Ariana Anne Baluyot, RPh, TaPestle Rx Product Specialists as speakers.
The seminar's theme was on Innovative Technology in Pharmacy Compounding. Specialized topics discussed were International Standards in Pharmacy Compounding, Engineering Controls and Isolation Technology, Safe Handling of Hazardous Drugs, Automation-centered Architecture Workflow and Automated Intravenous Compounding System. It placed awareness on the current practice standards in compounding and provided a better understanding of the facilities and equipment used in practice. The event also made way for TaPestle Rx to introduce the Robotics Intravenous Automation (RIVA), a sophisticated machine that automatically compounds intravenous preparations. The attendees were pharmacists from community, hospital, and industrial pharmacies in Malaysia.
For a demonstration during the event, Esco brought its Isoclean® Healthcare Platform Isolator (HPI-G3), which is compliant with several international regulatory standards such as USP, FDA cGMP and PIC/s. HPI-G3 facilitates isolation of a product or process while providing the requirement for an aseptic environment. The equipment maintains ISO Class 5 (Grade A) environment hence the surrounding environment can be of a lower classification (ISO Class 7 or Grade D) which can reduce running costs in PPE, utilities, consumables and monitoring.
Once again, the Esco Group of Companies would like to extend its sincerest gratitude to all the participants who made the event possible. We hope to have imparted you with an informative and comprehensive lecture on pharmacy compounding.
Get ready Taiwan! See you on September 29, 2016 at the GIS NTU Convention Centre for a professional development seminar on Innovative Technology in Pharmacy Compounding.