VacciXcell's Turnkey Solutions
---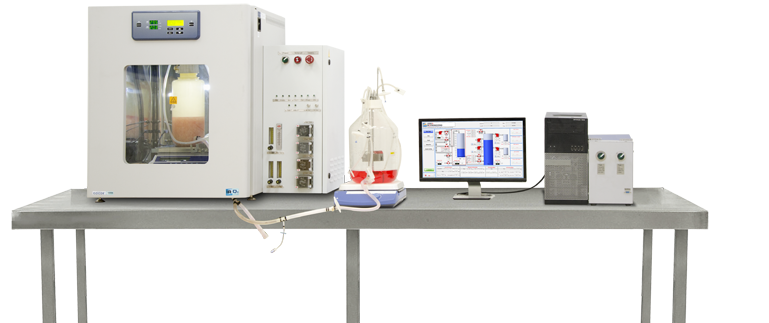 VacciXcell will be providing a turnkey laboratory facility for animal vaccine research and development in Pakistan.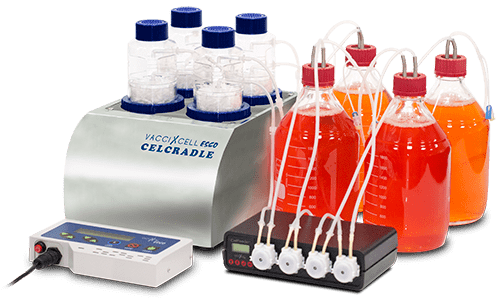 CelCradle™ Bioreactor System
At the core of the facility is VacciXcell's laboratory scale tide motion bioreactor, the CelCradle™ System. The CelCradle™ system is capable of producing high virus titers at minimal labor and space costs; moreover, its tide motion principle eliminates bubbling, foaming, shear stress, and oxygen limitation and enhances medium consumption efficiency, making it the ideal system for vaccine research and development. With the tide motion system's linear scalability, the client can easily scale up to pilot and production levels of up to 5000L with minimal bioprocessing time; this is a unique feature of the tide motion system that no other bioreactor system has been able to do. VacciXcell's TideCell® system is currently being used for the production of hepatitis and rabies vaccines.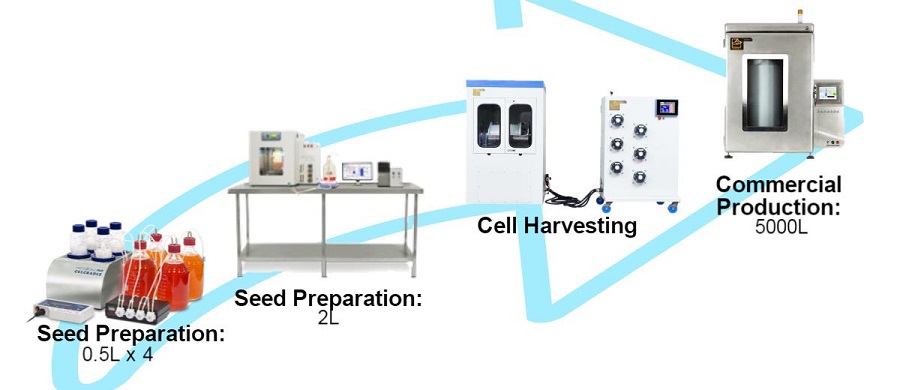 In addition to the CelCradle™ System, the laboratory will also consist of various Esco Life Sciences equipment including the AirStream® Biological Safety Cabinets, CelMate® CO2 incubator, Versati™ refrigerated centrifuge, and Isotherm® laboratory oven.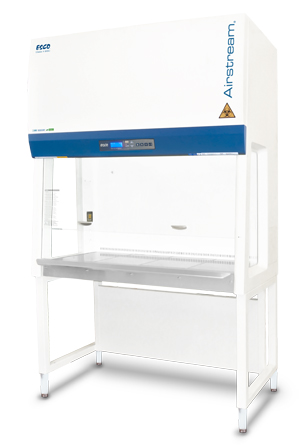 Airstream® Class II A2 Biological Safety Cabinet (E-Series)
The Airstream® Class II A2 Biosafety Cabinet is the most energy-efficient Class II Biosafety Cabinet in the world with 70% energy savings with its DCM motor, as compared to AC motors. It also features stable and self-compensating airflow, despite building voltage fluctuations & filter loading and is EN 12469 certified.Depending on the class and type, biological safety cabinets provide operator, environment and product protection against different levels of biohazards, including viruses; in particular, Class II A2 cabinets provide all three kinds of protection when handling up to BSL 3 viruses. In addition, Esco VacciXcell also offers Class III cabinets and Class III configured isolators for handling BSL-4 viruses.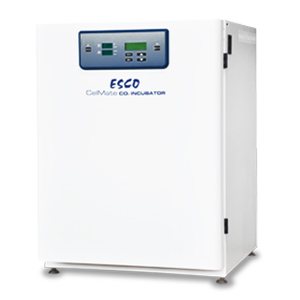 CelMate® CO2 Incubator
The CelMate® CO2 Incubator provides excellent sample protection and the best temperature uniformity, among competitors. It features VentiFlow™ forced convection accelerates recovery of chamber air to ISO Class 5 Cleanliness after door closing to prevent contamination and as well as an air jacket design, which provides isolation against ambient temperature fluctuations.Esco VacciXcell also offers other models of CO2 incubators, CelSafe® and CelCulture®. These models feature an ULPA filtration system that provides additional cross-contamination protection for samples. This is in addition to the PTFE-filtered vented caps of the bottles when using the CelCradle™ System.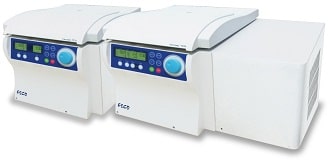 Versati™ Tabletop Centrifuge
The Versati™ refrigerated centrifuge features maintenance-free brushless motor, a diverse choice of rotors and motors, and cooling and heating function, resulting to a temperature range of -20OC to +40OC. It is also equipped with an active weight imbalance-identification system, V-balance™ Weight Imbalance Protection, and a CFC-free refrigeration system for a greener atmosphere.Centrifuges are used in different steps of bioprocessing. During upstream processing, they can be used for seed preparation from cryopreserved cell lines; on the other hand, they can also be used for the separation of fiber or other debris for product harvesting during downstream processing.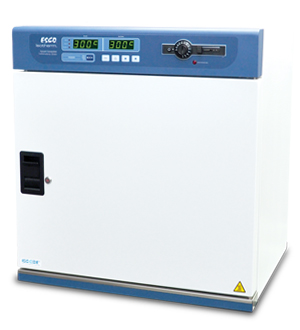 Isotherm® Laboratory Oven
The Isotherm® laboratory oven features a 4-zone heated air jacket design, heating up to 300oC, multiple redundant over-temperature protection and electronic over-temperature systems to guarantee maximum sample and user protection, and Esco's Isocide™ powder coating, which inhibits microbial growth.

Aster Biopharma CDMO facility in Singapore
Aside from providing the design and equipment for the laboratory facility, the VacciXcell team will also conduct an extensive training on adherent culture system and scale up with the tide motion bioreactor system using the laboratory scale CelCradle™ System and the pilot/production scale TideCell® system. The training will be conducted at VacciXcell's recently opened CDMO facility, Aster Biopharma, in Singapore.
The Esco Group of Companies is a world leader in the development of laboratory, medical and pharmaceutical equipment solutions, with VacciXcell focusing on adherent bioprocessing. VacciXcell's bioprocessing workflows comprise of discovery-to-delivery solutions, enabling scientists to scale up adherent bioprocessing for various applications from research and development to clinical trials and commercial production. In addition to research tools and equipment, VacciXcell also provides isolators, formulation & filling line equipment, and cold change storage solutions specially designed for the biopharmaceutical industry.