The Class III biological safety cabinet provides an absolute level of safety, which cannot be attained with Class I and Class II cabinets. All Class III cabinets are usually made of welded metal construction and are designed to be gas tight and work is performed through glove ports in the front of the cabinet. During routine operation, negative pressure relative to the ambient environment is maintained within the cabinet which provides an additional fail-safe mechanism in case physical containment is compromised.
On all Class III cabinets, a supply of HEPA filtered air provides product protection and prevents cross contamination of samples while exhaust air is HEPA-filtered and incinerated. Materials are transferred into the cabinet using a pass-through unit installed at the side of the work area.
Class III cabinets usually exhaust air back to the laboratory; however, air may also be exhausted via a dedicated ductwork system to the external environment. When a dedicated ductwork system is employed, they are also suitable for work employing toxic chemicals as an adjunct to microbiological processes.
Must-have features to consider:
Dual exhaust ULPA filters provides better protection than single-stage designs
User-friendly control system
Single piece, leak-tested Neoprene™ gauntlets to guarantee maximum protection.
Integrated pass-through with interlocking doors permits materials transfer without risk of environmental contamination.
Angled cabinet front ensures a comfortable working posture.
Magnehelic gauge mounted on the rear of work zone for easy monitoring
Audible and visual alarms to notify user of unsafe condition
Isocide™ powder coat that inhibits microbial growth
---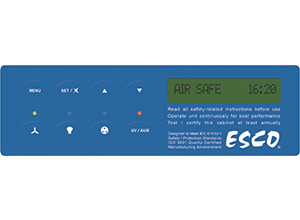 Sentinel™ Silver Microprocessor Controller has one-line LCD screen for display of airflow status and time. There are soft touch keys for fan, lamp, socket, and UV lamp. The cabinet will signal audible and visual alarms during unwanted events.

Sentinel™ Gold Microprocessor Controller has four-line LCD screen for simultaneous display of airflow status, airflow velocity, socket, sash, cabinet model, and time. There are soft touch keys for blower, light, and UV lamp. The cabinet will signal audible and visual alarms during unwanted events.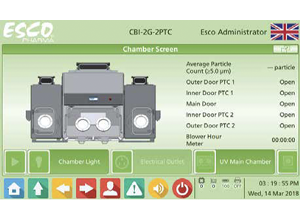 HMI Control System supervises all functions and monitors cabinet performance in real time. It has a large graphical LCD to illustrate isolator operating parameters. Alarm package is available for users with more sophisticated requirements.
Frequently Asked Questions